Indigo Griots: Tales of an Urban Dyer
Installed at Galerie Valérie in Espace Fibre, 2012. Montréal, Quebec.
The Indigo Griots: Tales of an Urban Dyer (2012) is a physical installation containing experiential moments of story-sharing, merging tactile and video forms of indigo inspiration. The labyrinth spirals around the space, covering ~2,000 ft2 of the gallery, reaching over 14 feet high. Layered Indigo patterned cloth-panels evoking memories of movement in and on water lead the visitor deep into an obsession with Indigo-Magic; a sensorial, haptic, meta-language surrounds and guides us through the maze.

Indigo layers create an immersive, tactile exploration of identity, social and environmental concerns undulating through the gallery. As the visitor moves along the spiraling path they are drawn towards the sounds of a bamboo flute, hands clapping, and singing voices. Eventually, one finds the heart of the labyrinth where projections onto neo-fibre of looped video extracts from a previous installation/performance of Indigo Griots: Urban Dyer in Minneapolis.
What is a Griot (gree-oh)?
— noun
Griot is a western African word for a traveling poet, performer, musician, or storyteller whose recognized function is to keep and perpetuate the oral traditions and history of a village or family. Traditionally, this oral history was the cultural knowledge repository of a community. In the Mali Empire's Mande Society this role is called jali.
Indigo is the blue power of Earth, a deity, a legend in our collective memory, a She-ro*. Indigo alchemy blends ashen residues of fire, composted plant cakes, water and transforms them into the colour of the sky. As Griots, we will share stories of magic, of Urban North Americans, Multi-Cultural artists chanting songs of community, transformation, and joy.
* She-ro: a female hero who is able to be seen & behave as a human with heroine-ic qualities.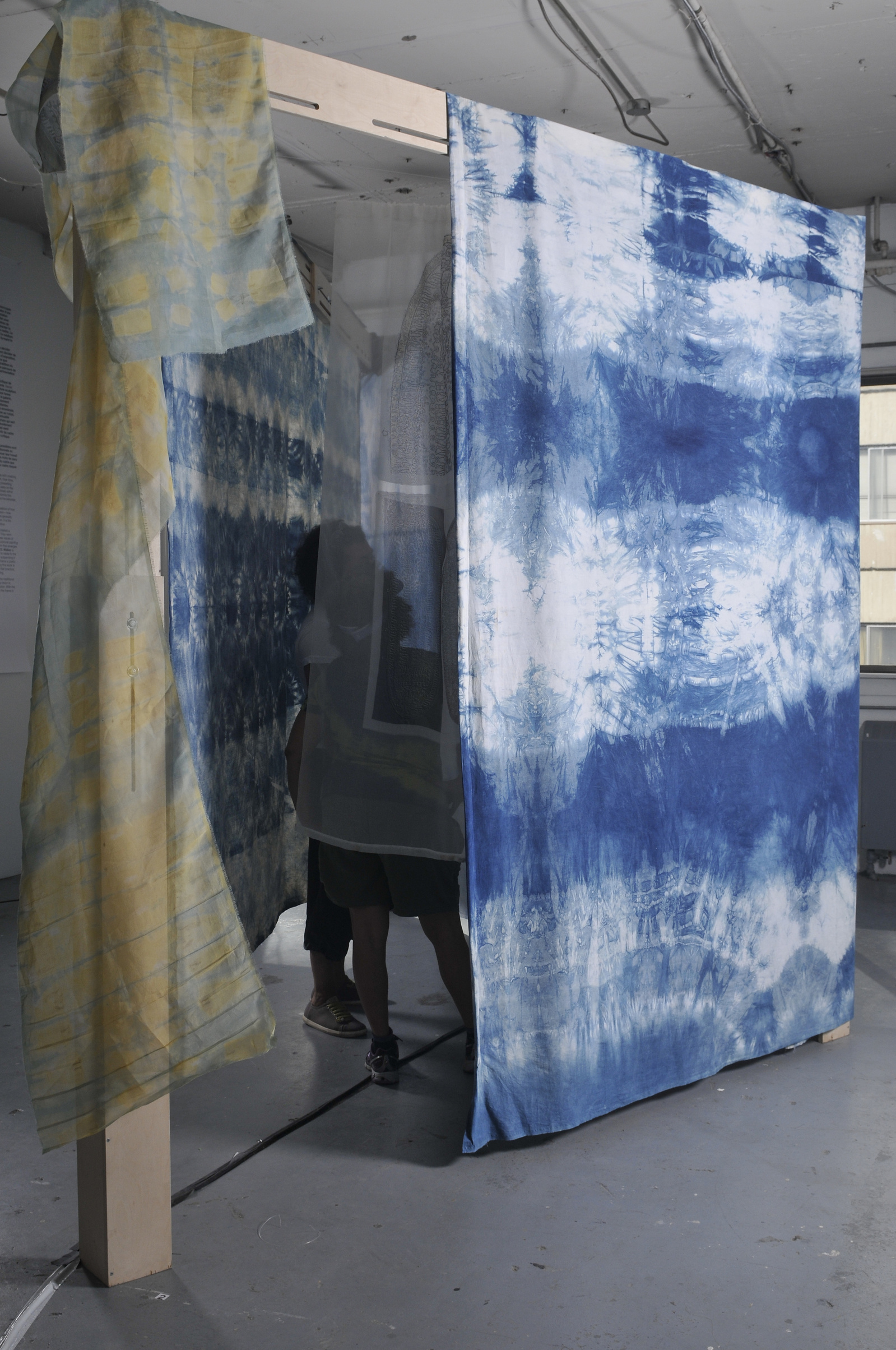 About the Process:
The repetition of creating nearly identical knots, or textures, then repeatedly dipping and massaging the fibres in an Indigo dye vat. This process serves to embed memory into the fibres. Squeezing and impressing a time-based narrative through pressure, embossing dimensional motifs in a tactile language. This performative, inter-media installation explores the power of tactile storytelling and indigo-based alchemy to hold cultural and individual memories.